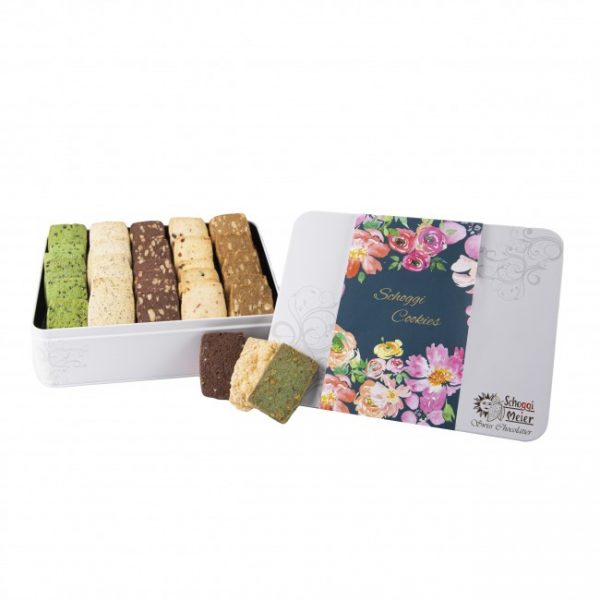 Schoggi Meier - The best Hong Kong cookie maker
Treat your loved ones with a Schoggi Meier Hong Kong cookie gift box. The Hong Kong Swiss chocolatier not only excels in making the best chocolates, they are also known for their delectable cookie treats in tins of 40.
Wide selection of Hong Kong cookie and chocolate gifts
The Schoggi Meier chocolate company makes some of Hong Kong's best cookie and chocolate gift options. Proof of this can be seen in the expansive catalogue of available cookie and chocolate gift sets in the Schoggi Meier website. The list of Hong Kong cookie and chocolate gift selections would not have been so comprehensive if Schoggi Meier produced subpar treats and products. But, because of the clients' continued patronage, the catalogue of customizable cookie and chocolate gifts for the Hong Kong market continues to grow. Of all the available gifting options displayed on the Schoggi Meier of Hong Kong website, the cookie tin of 40 is one to look out for.
Hong Kong cookie tins for the women of your life
The Hong Kong Swiss chocolate company only wants to make your special moments even more memorable. With the Schoggi Cookie tins of 40, the women of your life will definitely feel the love and appreciation you have and feel for them. After all, your mothers, wives, and girlfriends only deserve the best gift for having to deal with you, don't they?The Hong Kong cookie gift set comes in a large white rectangular tin can with a delicate floral design. It features a total of 40 masterfully crafted cookies that come in eight special flavors. The Hong Kong cookie flavors are as follows:Double Chocolate,Cranberry Orange,Pistachio,Macadamia Chocolate,Macadamia Coffee,Cheese,Earl Grey,Green Tea with Black Sesame.Each of the Hong Kong cookie flavors were made with decadence and pleasure in mind. Impress the women of your life with such a carefully thought out present that is sure to make your special moment truly unforgettable.
The Schoggi Meier effect
When you give your loved ones gifts from the premier Swiss chocolate maker, Schoggi Meier, there is no doubt that they will love every bit of it and you even more. The reason behind this is that Schoggi Meier uses only the best ingredients for their chocolate recipes and Hong Kong cookie products. On top of that, each of their products is made fresh and on the day of your purchase. With premium ingredients and guaranteed product freshness, no matter what your Schoggi Meier gift of choice is, you are sure to create a remarkable experience for the special people in your life. The Schoggi Meier brand has successfully secured their status as the go-to luxe chocolate and cookie gift maker in Hong Kong for any and all occasions.
Why Schoggi Meier Hong Kong cookie tins are your best friends
What could be better than receiving something from Schoggi Meier Hong Kong? Receiving something from Schoggi Meier Hong Kong in a beautifully designed package that contains 40 pieces of delectable cookie goodness! Not only are you giving the special people in your life the luxury of indulging in a Hong Kong cookie treat to last them days, you're are also cementing your position in their lives as the best and most thoughtful gift giver! With such a sweet treat like the Schoggi Meier Hong Kong cookie tins of 40, there is simply no way your efforts and kind gestures will be ignored. Splurge on this special Hong Kong cookie tin to give to the most special women in your life.
Schoggi Cookies (48pcs)
Double Chocolate (6pcs)
Cranberry Orange (6pcs)
Pistachio (6pcs)
Macadamia Chocolate (6pcs)
Macadamia Coffee (6pcs)
Cheese (6pcs)
Earl Grey (6pcs)
Green Tea with Black Sesame (6pcs)
Earliest Delivery: 3 working days
$299.00
Description
Weight: 490g
Box Size: Approx. 20.7 x 16 x 6.2cmH
Weight: 490g
Box Size: Approx. 20.7 x 16 x 6.2cmH
Wheat Flour, Butter, Sugar, Egg Yolk, Macadamia Nut, Pistachio Nut, Cranberry, Parmesan Cheese, Cocoa Mass, Cocoa Powder, Orange Peel, Black Sesame, Milk Powder, Vegetable Oil, Coffee, Earl Grey Tea, Cheese Powder, Green Tea, Stabiliser (E339i, E401), Raising Agent E500i, Anticaking Agent E170i, Cocoa Butter, Emulsifier (E322, E433, E471), Salt, Acidity Regulator E330, Preservative E202, Colour (E102, E133, E160a), Flavour and Flavouring
Contains cereals containing gluten, eggs, tree nuts, soybeans, milk
May contain traces of peanuts and their products
Dimensions
Ingredient
Nutrition
Allergens
Weight: 490g
Box Size: Approx. 20.7 x 16 x 6.2cmH